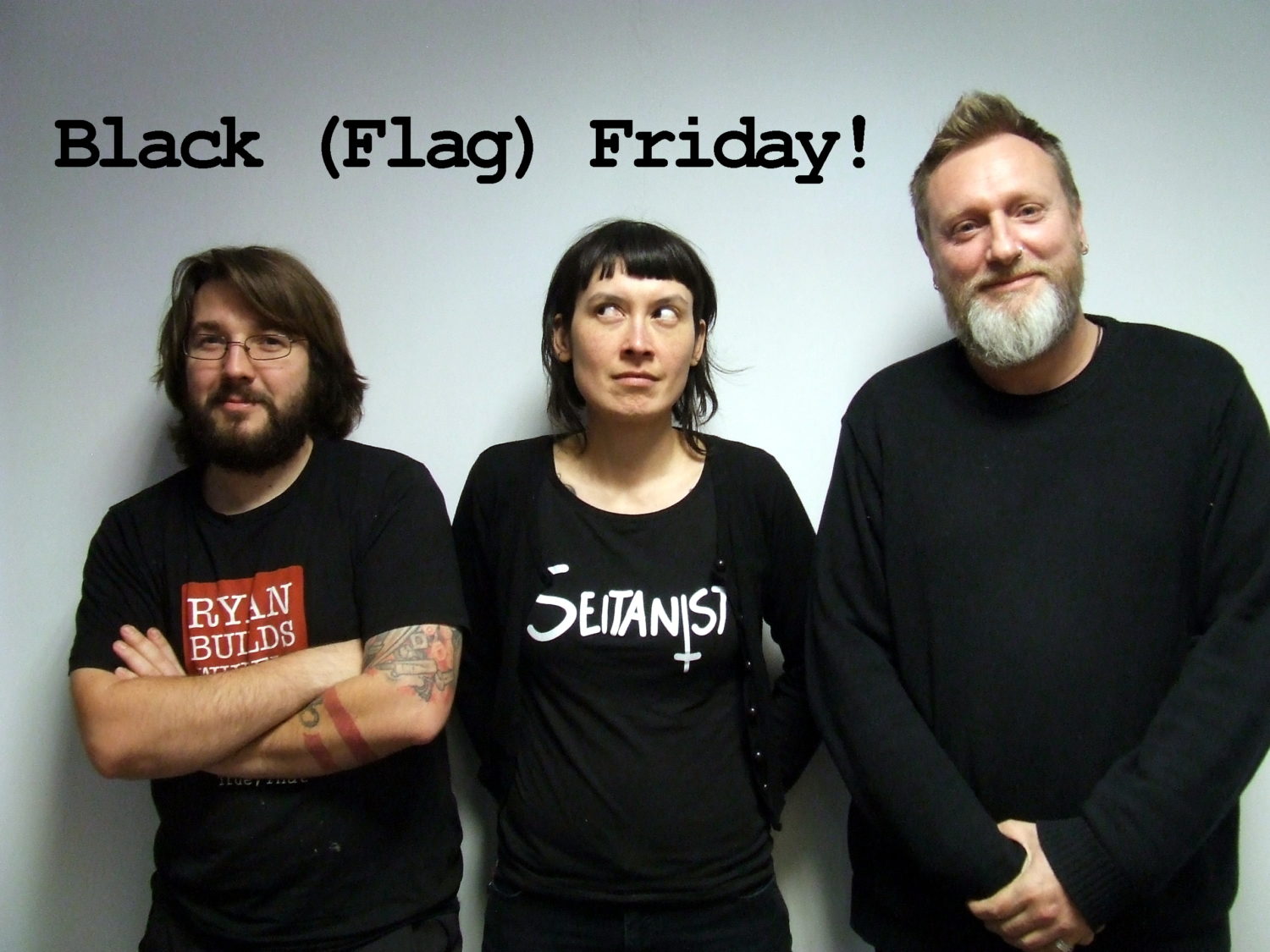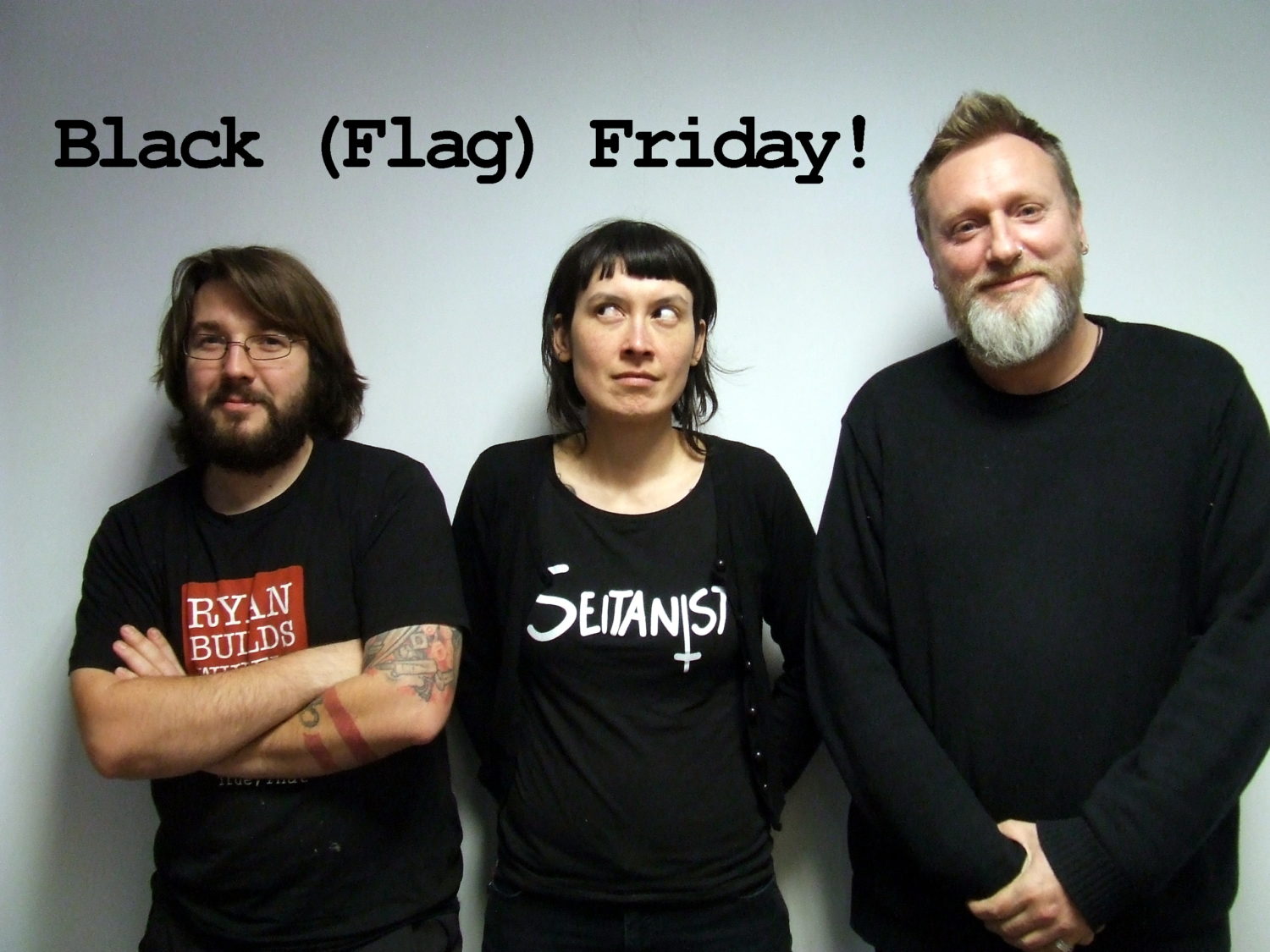 Black is one of our favourite colours.
It makes most of our wardrobes intensely simple.
It goes well with Ryan's favourite red and white aesthetic.
It makes wheel components available in a great looking gloss, satin or shot-peened options.
It allows anodised nipples to really pop or for silver spokes to hit that sweet high contrast.
If there was a flag we were going to wave then it'd almost certainly be black. Black Flag is a fucking excellent, right on kinda band.
We like black and we like it a lot.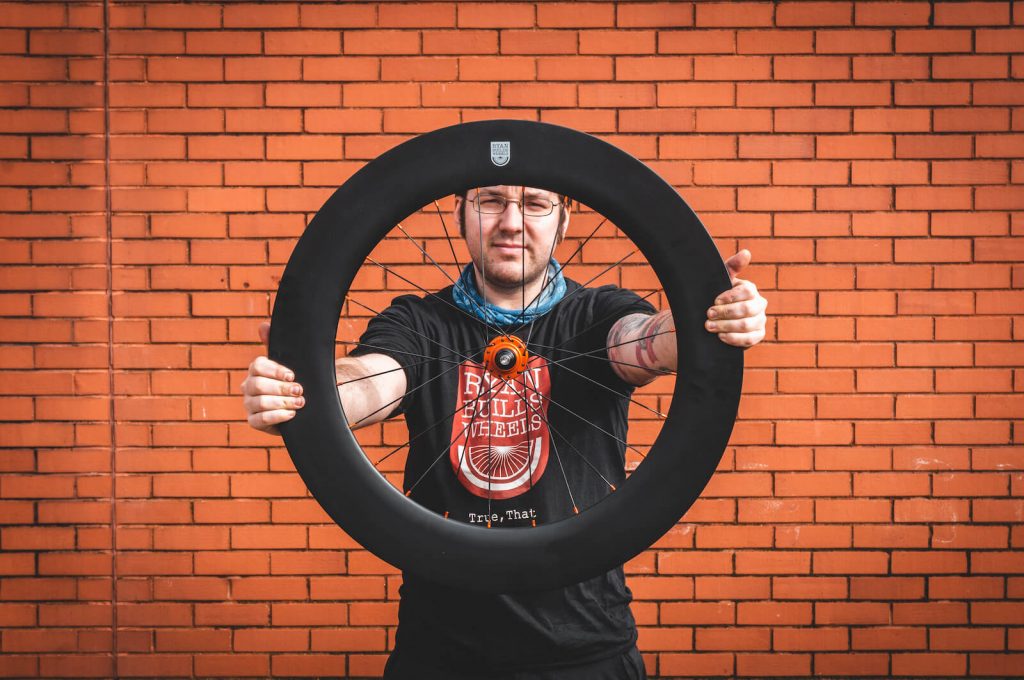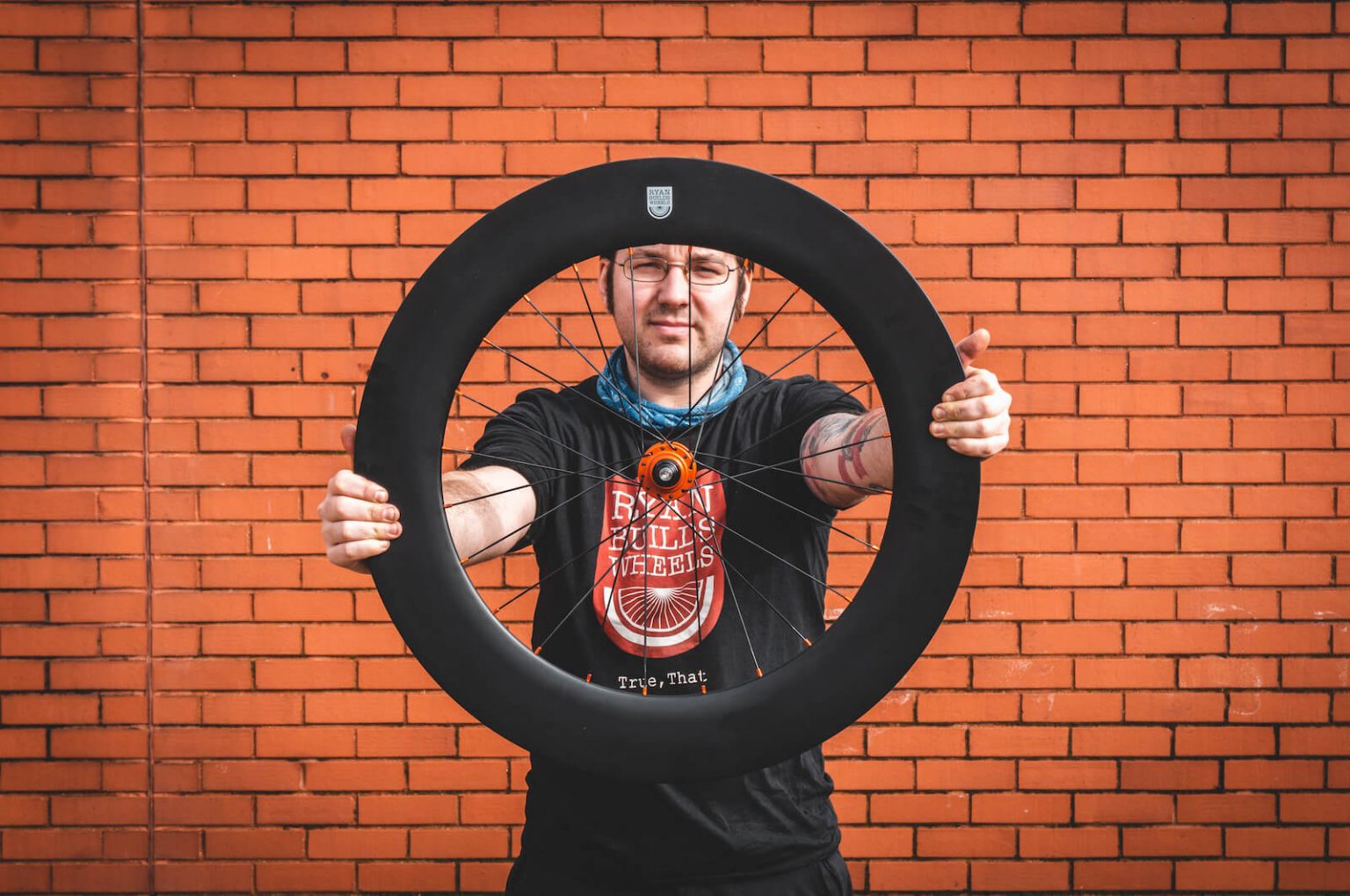 Let's just say that we feel differently about Black Friday. It's an awful cut-price, product pushing, heap of emails trying to sell you shit you just don't need year after year; it's almost as bad as Christmas.
Consider this, days termed 'black' are usually pretty awful. Here are a few from the ages:
Battle of George Square, a riot stemming from industrial unrest in Glasgow.
The 1978 massarce of Iranian's protesting against an oppressive monarchy.
1910's mass arrests of Suffragette demonstrators preceded by accounts of police violence both physical and sexual against many women interviewed after being released.
The Haymarket affair in which 7 protestors were hanged on charges of a bombing that took place during a gathering of the people; a black day for all sides regardless of opinion.  The Haymarket Rally stemmed from a desire for workers rights and demands for an eight hour day.
Given the above examples, we'd like to put forwards two arguments.
Firstly that a day geared towards the consumer being able to access shiny new toys on the cheap is somewhat offensive to the struggles and at times sacrifices that many have made for the liberties, freedom and rights that many of us take for granted.
Secondly, that maybe, just maybe, our modern-day Black Friday truly is a travesty.  If – like us – you feel that the sheer amount of stuff that humanity consumes and creates, not forgetting the potential for societal and environmental damage that the creation of said stuff causes, then today sure does feel pretty dark.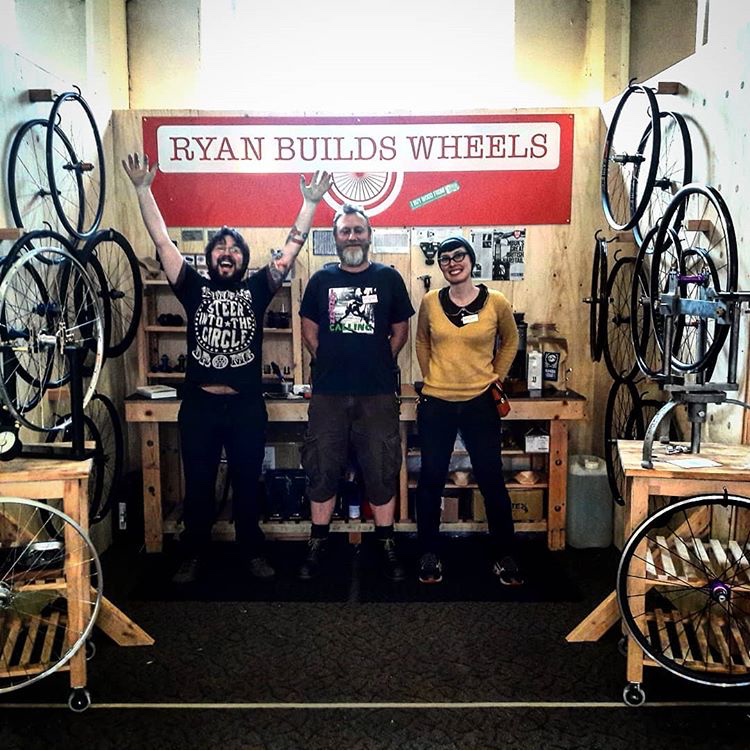 We'd prefer to work towards a future that doesn't look quite so bleak.
You may have noticed that there are three people in that picture up top. Funny for a business with just one person's name. The words 'we' and 'us' have been used a lot too. RyanBuildsWheels isn't an 'I' affair these days.
Allow us to help you meet the team.
On the left you've got Ryan; Bristol's very own bearded bike grouch and wheel wizard. Ryan is responsible for making all this happen and is just about fed up with the way of the world. He'd love to help make it look better.
Front and centre please welcome Joey. Joey joined us in September 2018 as it started to become obvious that more folks were needed to build as many awesome wheels as we do. Joey's busy learning the craft and wants you to Google 'Seitan' immediately.
That guy on the right? Meet Pete, he's our resident 'Spoke Bloke', sales manager and all-round good egg. If you're ordering custom cut spokes from our sister site SpokesFromRyan it's Pete who will sort you out and who's careful callused hands pack your new high-end hoops as they wing their way to your door. You can get to know him better here.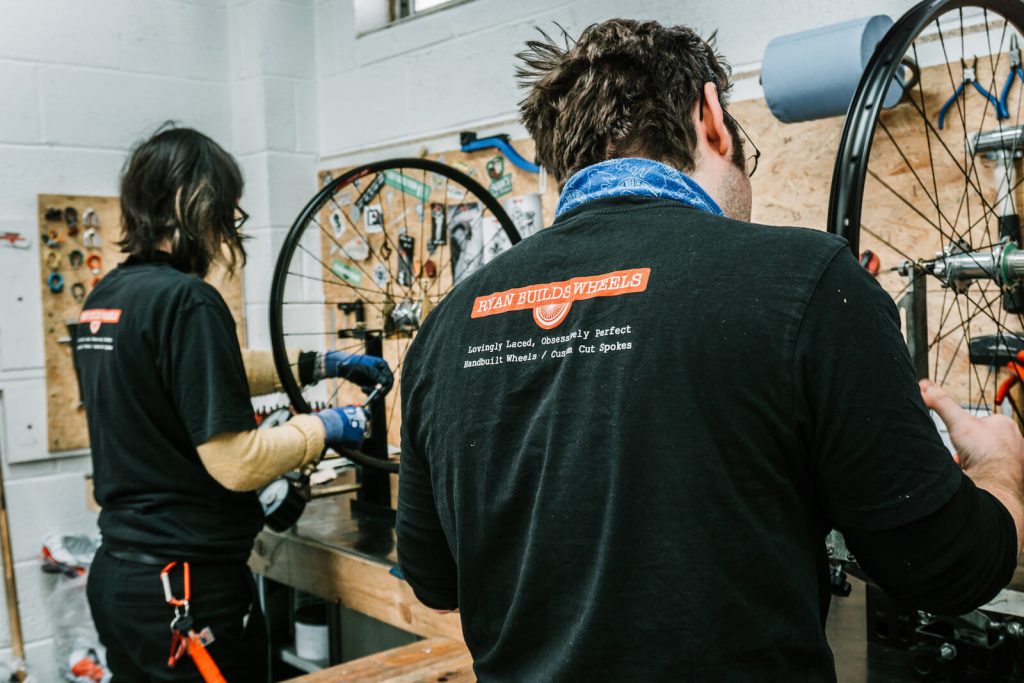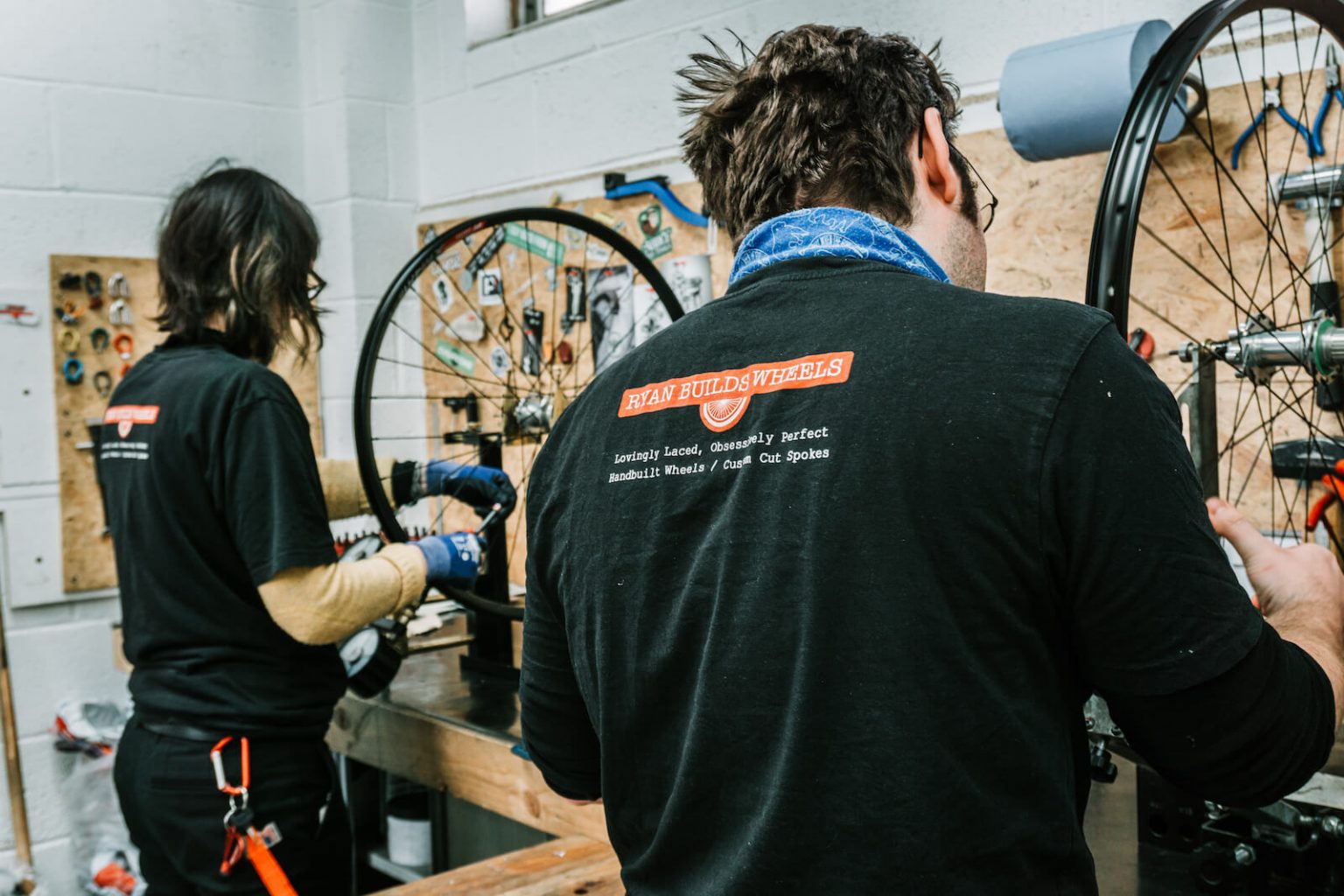 What's all this got to do with an anti-Black Friday diatribe?
Simple; profit before people.
There's three of us working here now, and you'll notice that many of those 'Black Friday' events from days gone by focus on worker's rights.
Do you know how many people you need to form a worker's co-operative? The answer is, you guessed it, three.
A worker's coop is, by the way, an organisation whereby profit is shared fairly between those whose labour is directly tied to the means of production. Profits aren't skimmed off the top by owners who feel that the livelihood and well being of their workforce is somehow worth less than their own.
Here at RyanBuildsWheels we're working hard to make becoming a workers co-operative a reality and you can expect to see some exciting news and changes in how and what we offer over the coming months.
We're keen to make sure the wheels we build are the best that you buy for whatever budget you may have, crafted by skilled, knowledgeable people whose time and effort are fairly valued.
We're about quality over quantity, and – you know what – if we gave into something as whimsical and offensive as reducing the value of the product we create then somewhere, quality has got to give; be that in the livelihoods of the people that the business supports or just how fucking excellent the wheels we build truly are.
Those are two things that we're not going to budge on; not now, not ever. And if that means we miss out on the chance to devalue ourselves and our product in exchange for a little extra cash, then so be it.
We'll be here, year after year, waving our black flag proud; building wheels that come in all shapes, sized and colours, but – we think – very often look best in that classic shade; black.