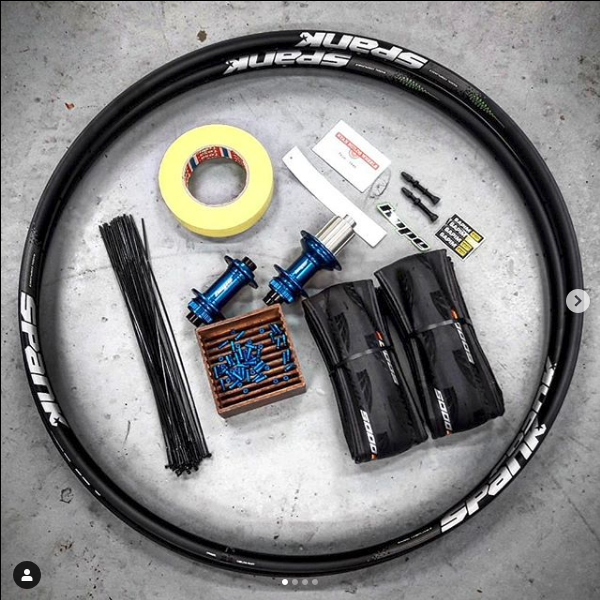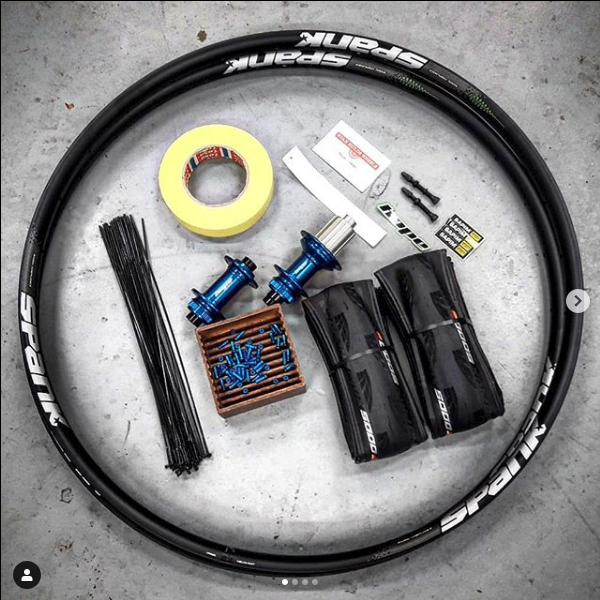 When customer Debs got in touch looking for a new hand-built, custom wheelset she had a pretty specific idea of what she wanted.
"I'm looking for a pair of uber-good Winter Wheels which can also double up for general purpose all year round use"
All good so far. But there was an extra 'must-have' on Debs' list.
"I want reliability and comfort. Is it possible to build wheels to absorb vibration?"
The answer? A resounding "Yes!"
Enter the Spank Industries Vibrocore range of rims, products we love hand-building custom wheels with here at RyanBuildsWheels.
Available in both their '350' and '359' models (both for mountain bike use) and their Flare 24 models (for road, gravel, touring etc) they were the bike wheels that immediately came to mind for Deb's dream wheelset.
Spank's website says:
Disc specific, tubeless-ready, clincher rim, with Vibrocore™, optimized for Gravel, Adventure, and MTB Cross Country use.
Vibrocore™ inner well reduces the transmission of harmful vibration frequencies, improving rider comfort and increasing the fatigue life of the rim.
Low profile 16.5mm depth, and wide 27.5mm outer width enhances Radial Compliance, improving traction, while reducing negative feedback to the rider.
Symmetric profile with wide 24mm inner width, optimizes tire spread with modern wide gravel tires, without compromising overall weight.
Bead Nip tubeless bead seats provide reliable tubeless performance even at low pressures.
In particular, we've found their 'OohBah' channel and Beadbite tech to work really well and we're keen to support manufacturers who are aware of the environmental costs of carbon and it's inherent difficulty to recycle.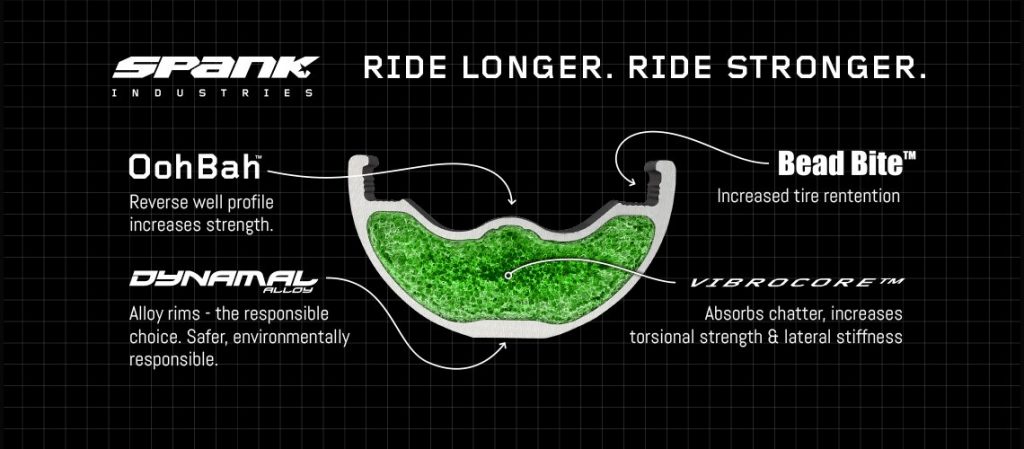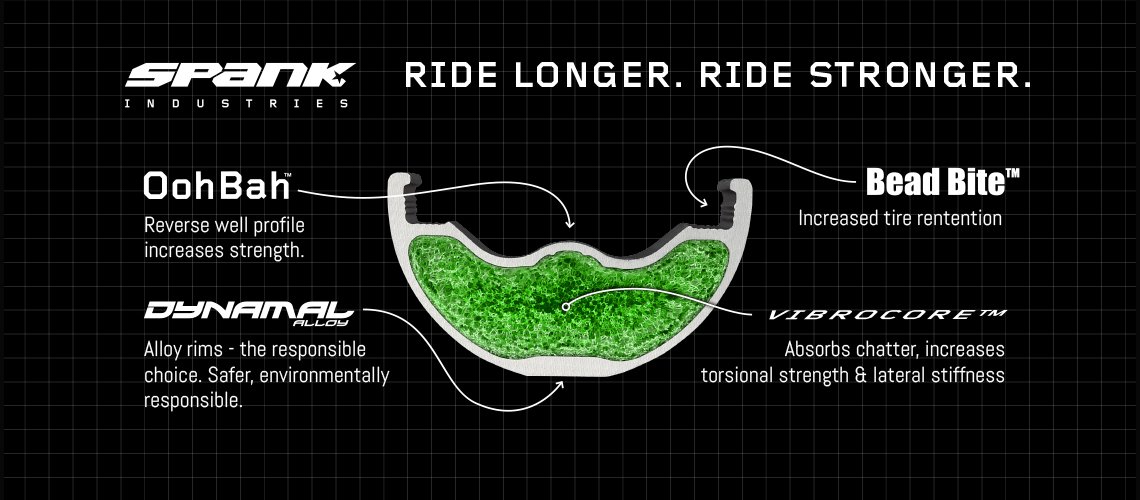 The first job was to decide on how we'd build Deb's wheels.
We'd normally build with a 3-cross spoke pattern on the back and a 2-cross on the front. In this case, we went for 3-cross both ends to give a bit more radial compliance.
Whilst the differences on the road may be subtle, we're all about marginal gains when hand-building wheels so the small details are important.
The idea here was to use a spoke pattern that is less radial than we might normally build onto road wheels. Radial lacing gives a stiffer and more direct interface between rim and hub. Fewer spokes also means increased aero-performance and weight-saving… all benefits we'd normally go for a road wheel but were actually opting against for Deb's wheels.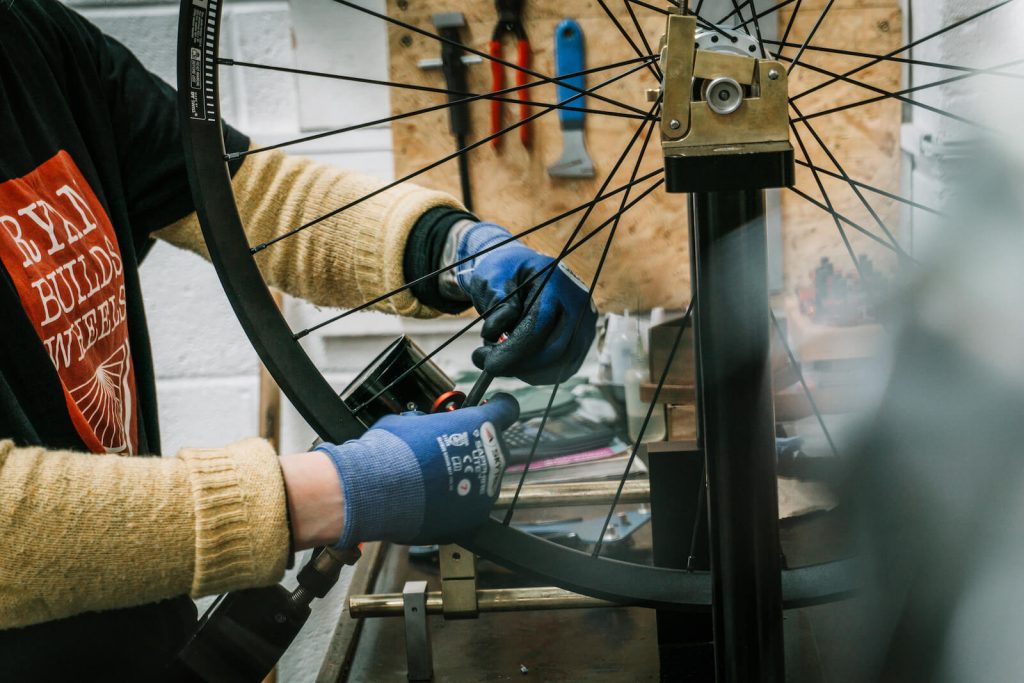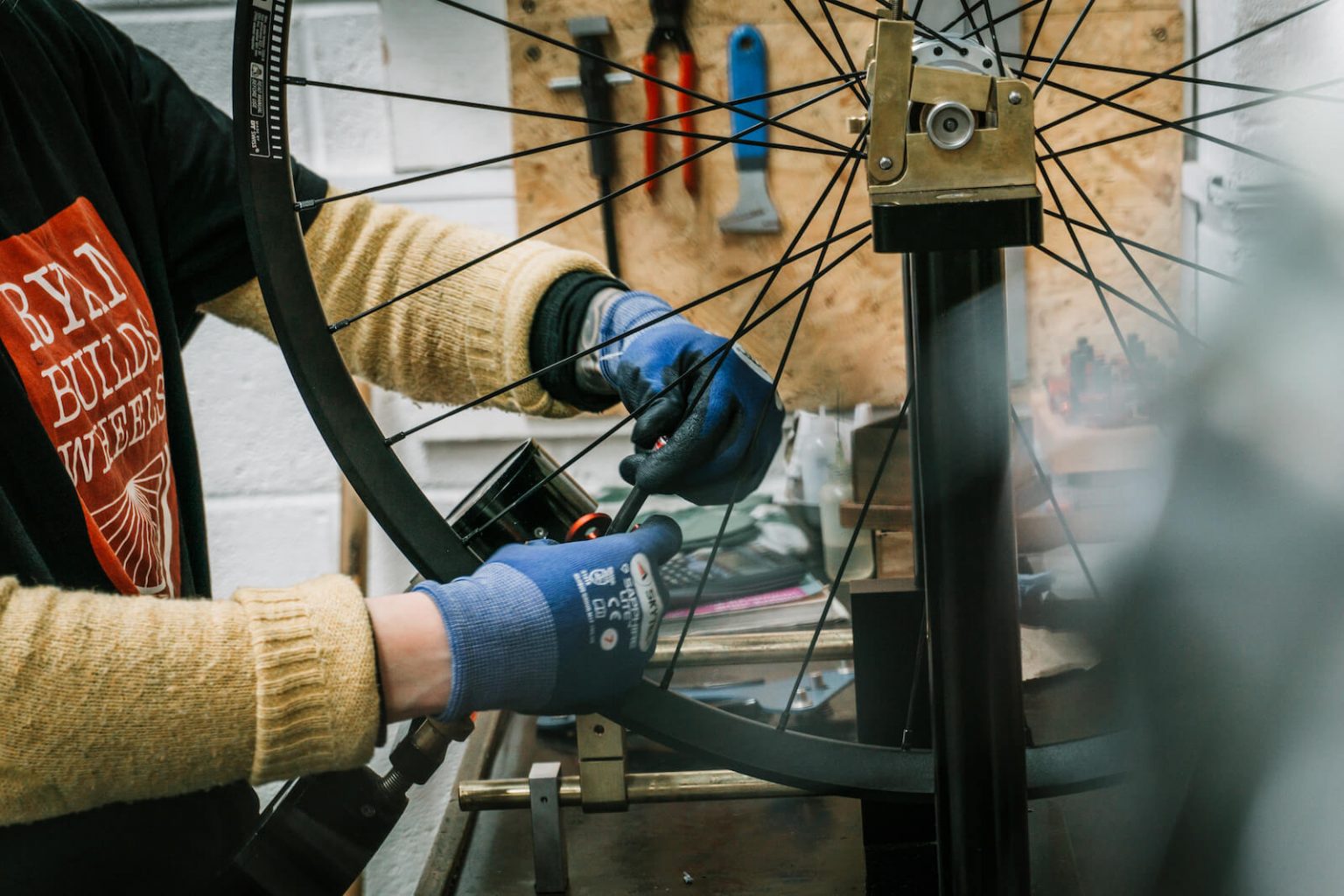 Next, it was time to work out the rest of the components. 
After picking the Spank Vibrocore rims, the rest of the build was easy to spec.
High-end, bladed Sapim CX Ray's paired with blue anodized alloy nipples matched up perfectly to Hope Technology's wondrous centre-lock RS4 hubs. The hubs colour matched perfectly, of course.
After discussion, we were able to convince Debs to try converting her wheels to tubeless and to use wider-than-her-usual 32c tyres. She rides plenty of rough, grainy tarmac roads with loads of potholes and needed something a bit more rough-and-ready. Tubeless allows you to run lower tyre pressures which equal more grip and also reduces your likelihood of punctures. These were both things we knew she'd benefit from.
If you're considering a new setup, RyanBuildsWheels offers tubeless installation at our workshop in Bristol, which includes re-tensioning and re-dishing of wheels if required.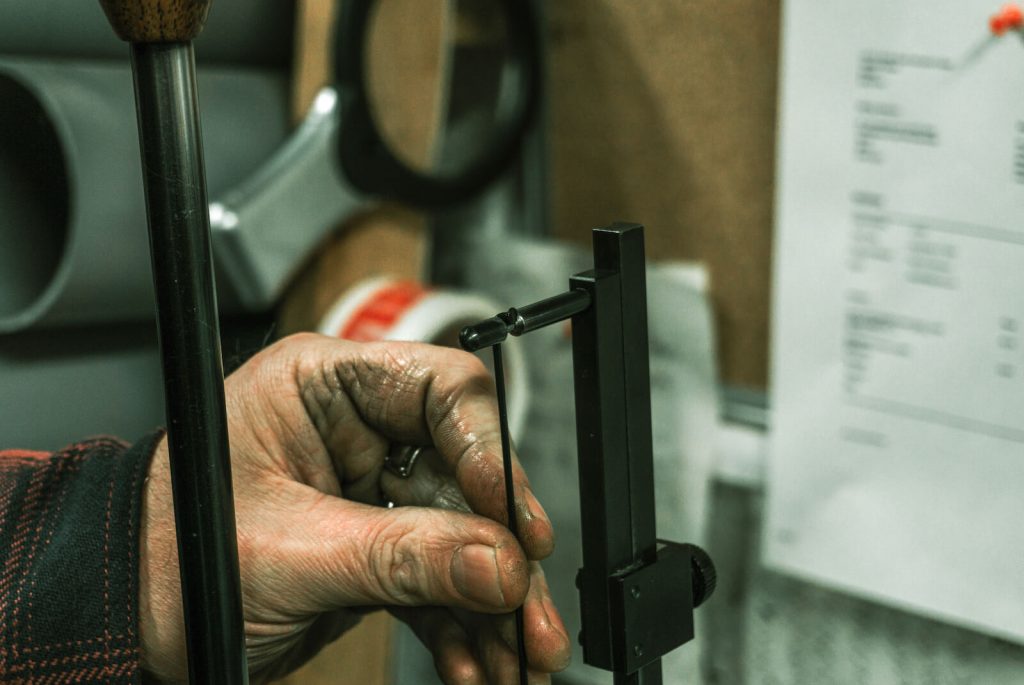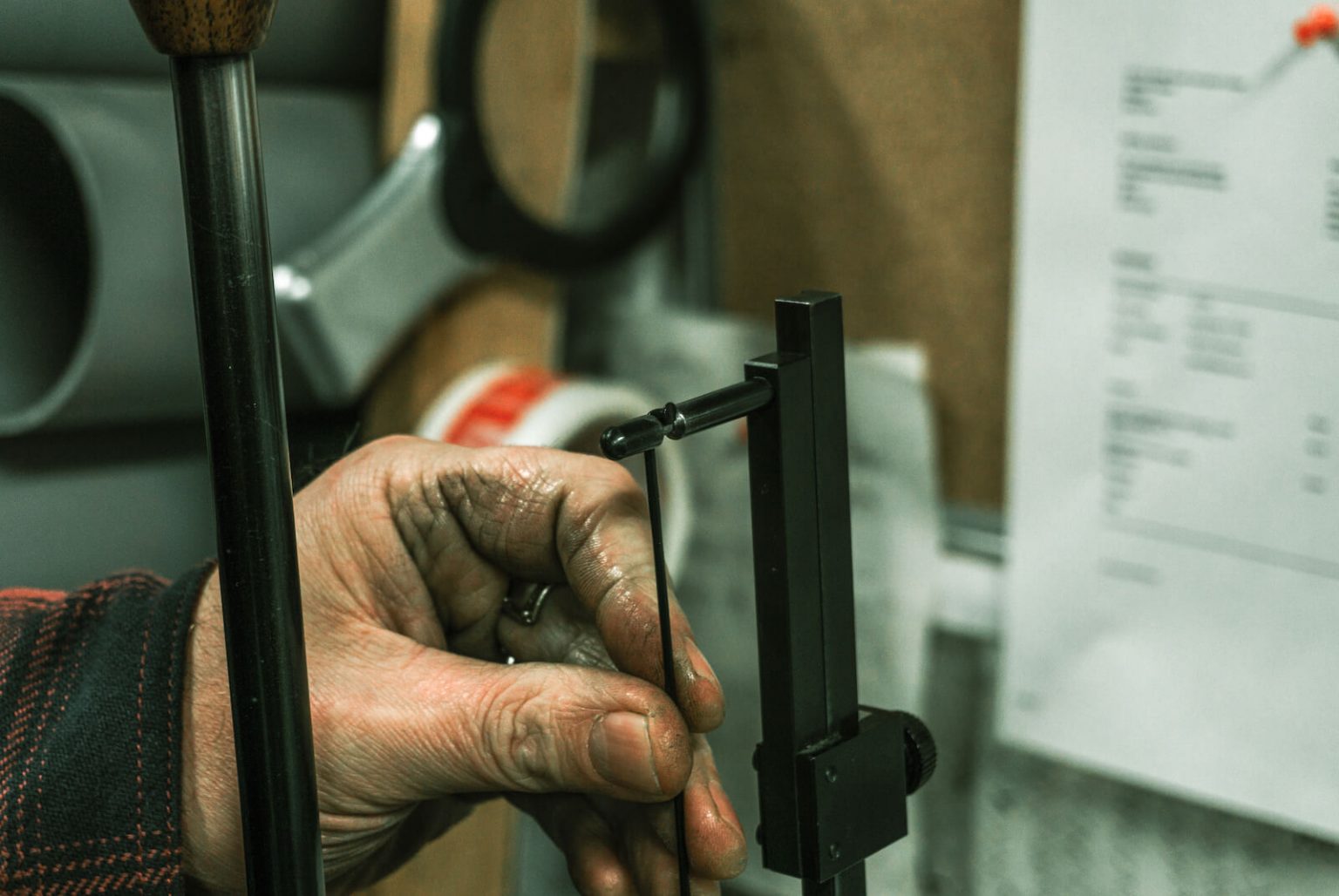 All done, time to ride!
With Debs' new wheels hand-built and set up tubeless, we didn't waste any time in getting them delivered.
She got them onto her trusty Trek Domane and got straight out for a test-ride. We were over the moon to see her put some hassle-free miles into her wheels and come back with some really great feedback.
"As soon as the wheels arrived here last week; they came out of the box and set up on the bike without any problems. I was out riding an hour later.
Over the past nine days since, I've had 7 rides totalling around 160 miles, so I am becoming fairly aware of how well they ride.
First impressions of the tubeless tyres are favourable, especially gained comfort. The bike now floats harmlessly over bumps which before would have shaken my tooth fillings out on the hard carbon aero wheels that came with the bike when new.
The tubeless tyres have excellent traction, I'm still experimenting with tyre pressure but the general feel of the ride is very confident and full of grip which includes going downhill at speed, but the main beneficial gain is obviously comfort. This is a very much improved level of ride refinement from what went on before with the carbon aero wheels.
The only loss is some assumed aerodynamics which isn't really noticeable anyway when descending at + 25mph, this is very much what I expected;  a well worth trade-off for such a huge increase in refined rolling comfort.
My deep-section carbon wheels will remain my secret go-to weapon of choice for those summer 10-mile time trials. For general purpose all year riding around the new wheels are absolutely perfect for my Domane, I'm really glad I bought them and appreciate your expertise in quality wheel building".
Thanks to Debs for sharing her feedback.
Looking for your own very specific, hand-built, custom bicycle wheels? You can learn more here on our Custom Wheels page.