TWO PAIRS AVAILABLE IMMEDIATELY! Visit the Shop!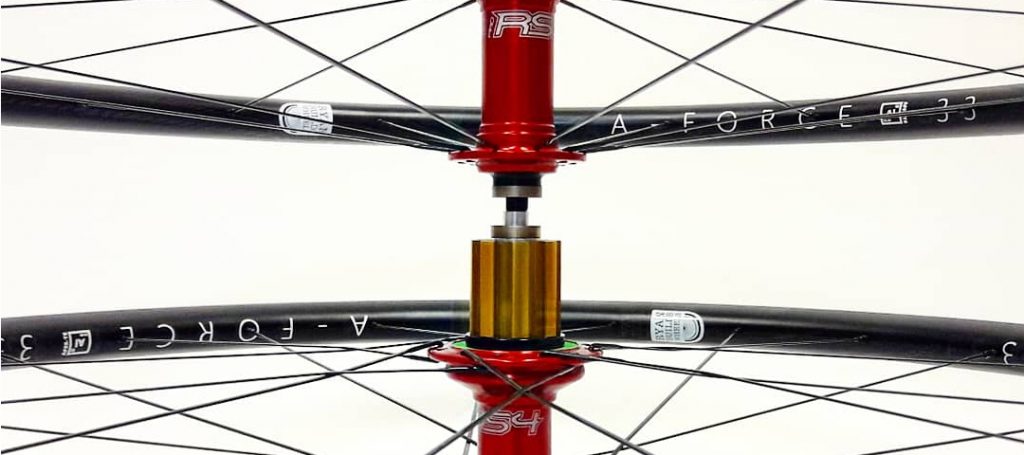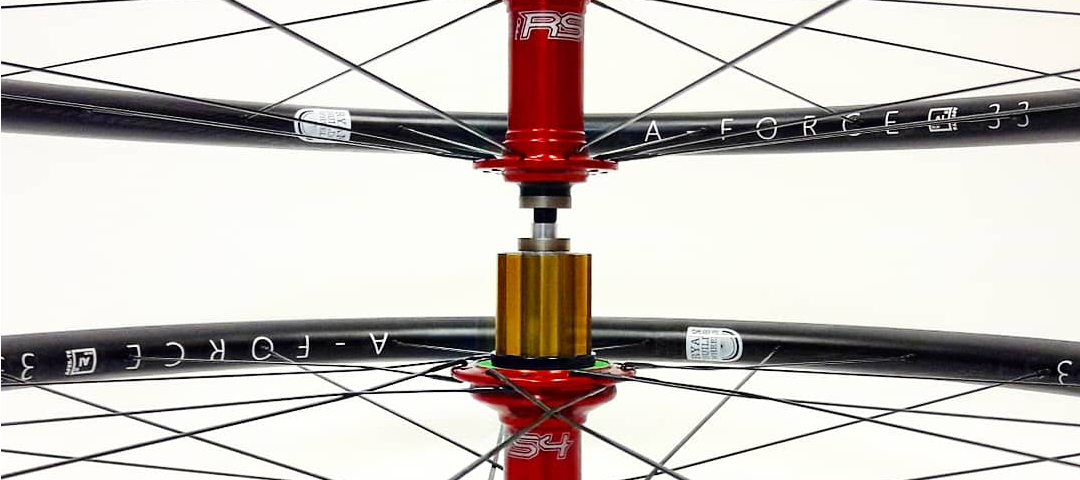 The A-Force AL33 rim has taken the RBW workshop by storm these past two years.  Simply put, it is the be-all and end-all in high-performance alloy road rims.
Available in both rim and disk brake configurations they build up into some of the most stunning wheelsets that we work with.
Why? Read on to find out all the juicy tech details, learn about our AL33 test programme, and explore some of our most popular A-Force build options for your Road, Gravel or Adventure Bikes.
An Alloy Masterpiece
After their successful crowdfunding campaign, we were thrilled to be approached by A-Force's distributor to handle all UK orders and to be amongst the first to get their hands on the most exciting bit of road wheel tech to have hit the scene of late. It was immediately clear as we started work and rode a pair for ourselves that A-Force's debut, 700c, alloy masterpiece was a rim we'd come back to time and again, delivering carbon performance at alloy prices.
The Vital Specs
As its name might suggest the AL33 is a 33mm deep aluminium rim focusing on aerodynamic performance and outright speed. Unlike many rims that have come before this is no slab-sided, V-shaped, 'semi-aero' offering. The AL33 is a modern, toroidal profile designed from the ground up around the use of either 25 or 28c tyres for 'pure' road riding. With an increase in top speed and handling beautifully even in crosswinds, it also builds with exceptional stiffness allowing you to keep kicking out those watts regardless.
Carbon vs Alloy
Whilst the right choice of carbon (we use
Venn Cycling
) does yield some fantastic wheelsets, it does come with some problems. There are inherent sourcing difficulties, ecological challenges in terms of recycling and the price is, of course, inhibitive to some. The performance A-Force delivers from alloy is something truly special.
Yaw Going to Like Those Aero Results
The A-Force AL33 rim's aero credentials are likewise impressive. The results from the two graphs below complement each other, showing several other rims compared alongside A-Force's offering.  Each coloured line shows a wheel's drag (on the Y Axis) at different yaw angles (along the X Axis), whilst the bars indicate the mean percentage of your riding time that you're likely to experience each angle indicated.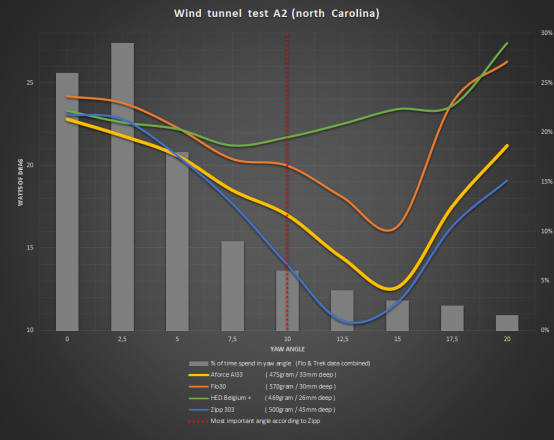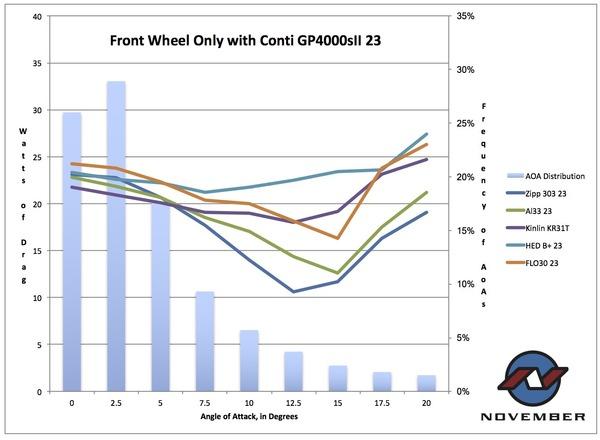 What this all shows is really impressive. At 10° of yaw (what many consider to be the most important angle for aero results) the A-Force AL33 rim outclasses everything but the somewhat expensive Zipp303. These results are truly impressive, particularly given that Zipp lock you into a full wheel 'system' (hubs, spokes etc) and the number of Zipp warranty issues we've seen over the years. Comparing the A-Force AL33 specs to the Zipp303's 45mm depth and additional weight shows that the A-Force is a much more rounded, do-it-all choice.
And Some Other Benefits
With the AL33 you can customise your new wheels to suit you and your bike. You can also avoid what we feel are some pretty ugly/aggressive branding choices from big wheel companies. A-Force's subtle and svelte branding simply looks so much better.
Let's touch on some of the stand out features and specifications that the AL33 brings:
Rim and Disk Brake Models available.
475g a rim, meaning set weights can start at just under 1400g.
19.6mm / 26.2 internal / external width gives a better aerodynamic profile for 25-28mm road tyres.
Spoke counts from 18 to 28 hole; being both deep and stupid stiff 28 spokes is the most you'll need for the AL33's intended purposes.
Suitable for riders up to 95kg in 28/28 spoke count.
Toroidal aerodynamic profile that's exceptionally stable in crosswinds.
Superior spec AFX9-T6 alloy (a more tightly controlled composition of 6069) is naturally stronger than the traditional 6061 used in most rims, and a welded joint that you'd expect on a premium rim. It has higher tensile and yield strengths and is easier to work into thinner sidewalls meaning less material can be used with no decrease in strength.  Crucially the AL33 is also T6 heat treated (just like our choice of Sapim nipples) meaning that it's harder than most other rims and has an increased lifespan with rim brakes.
Tubeless-ready with a well thought out bead system.  You can run them with standard tubed clinchers no problem, we feel that road tubeless is coming along nicely though; give it a try on your new wheels!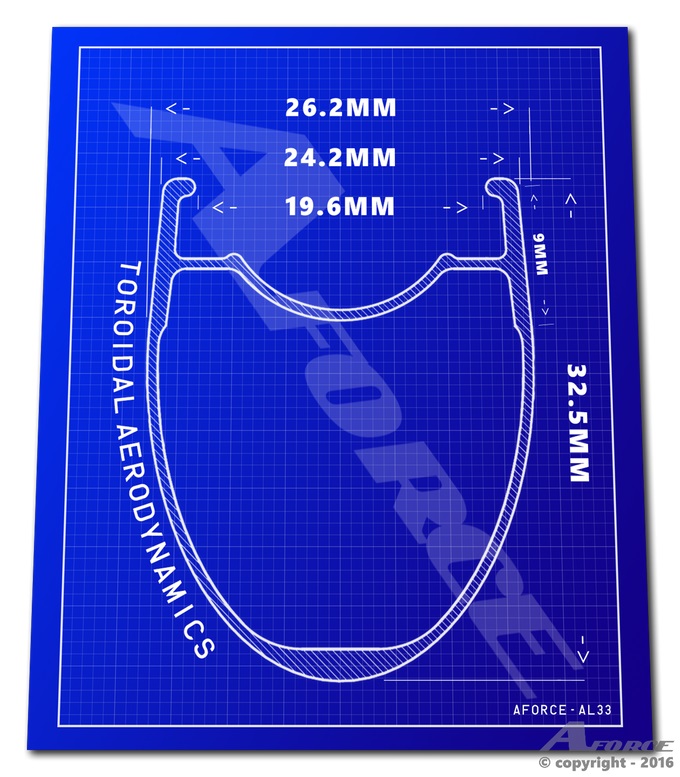 Your Options for Building
If you're looking for a performance-driven pair of road wheels then several of our 'stock' builds (all tailored to the rider when needed) are the perfect place to start. Prices start from £575 using Bitex RAF/RAR12 hubs and Sapim CX Rays for those riding rim brakes whilst our most common build for road riders on disk brakes utilises Bitex BX106 centre-lock hubs at £610. Don't need aero spokes cos you wanna put big rubber on there? £530 will get you started. The HopeTech RS4 hubs are a popular choice here at RyanBuildsWheels. Their generously proportioned flange and axle dimensions coupled with all-round durability and luscious looks makes them a best-seller. If you're looking for a pair of wheels that are truly boutique then pairing the AL33 with options from Tune or Extralite (for all you weight weenies), White Industries (stunning finishes; a real gem of a hubset) or Chris King (if you wanna show off!) all make a real statement with prices from circa £850-£1250.
Is the A-Force AL33 Suitable for Gravel or Adventure Bikes?
Whilst we've focussed on the AL33 as a 'road' wheel, we wouldn't rule it out for CX, adventure touring and gravel. Whilst you'll lose aerodynamic advantages with tyres above 32mm the AL33's stiffness, width, tubeless compatibility and strength mean that you'll have a pair of wheels that mean serious business. RyanBuildsWheels owner Ryan has a RoadPlus rig, built by 
Clandestine.cc
which pairs the AL33 in 28/24 spoke count, laced with Sapim CX Ray's onto a Hope RS4 Centrelock and our go-to dynamo of choice, the SON Delux CL. Shod with 36mm handmade tubeless tyres from Challenge they are perfect for his preferred long distance fast-paced mixed-surface riding style.
Ready to buy? Check out out new Aero Bomber and Aero Disk Bomber wheelsets featuring the A-Force AL33!
You can learn more about RyanBuildsWheels Hand-Built, custom bicycle wheels here on our Custom page.
If you'd like to get in touch to discuss your new wheelset, our Contact page is here.