Description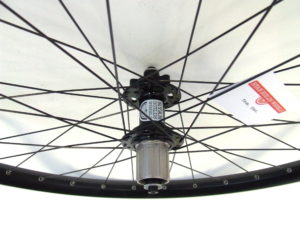 The Beasts of Burden are our affordable no questions asked, ready for the hard-knocks off road setup suitable for most any type of riding  you want to do.  They're especially great for riders who want a fire and forget wheel that doesn't break the bank and won't require servicing for quite some time.  They're suitable for riders up to 110kg.
Based around our go to Bitex MTR12 hub which we've opted for a steel rather than alloy freehub with additional bearings for longer bearing life and to make sure that if  you're not using a double alloy spider'd cassette then no gouging will take place
Currently setup with a 135mm QR axle the MTR12 can be provided with most any other axle standard you might need as well as having the option to run a SRAM XD Driver; all options are available free of charge; just get in touch before you order so as we can make the change.
Spokes are the tried and tested double butted Sapim Race in Black with brass nipples to keep the cost down.  All weatherproofed and lubed with our in house system meaning they'll be true-able for years to come and free of corrosion.
We've opted for DT's mid-range do-it-all M502 rim and you're wheel will come pre-taped with two layers of lightweight tubeless tape from the manufacturer or Stans.  The Beast of Burden is ready for whatever you want to throw at it from trouble free XC Commutes throughout the winter, as a great upgrade on your stock wheels for trail riding, right up to gnarly DH action; the Beast won't let you down.
This Rear wheel is part of our Christmas Clearance and has had it's price knocked down by a decent amount; you'll be helping us to clear excess stock and in return you get a great bargain! If you'd like to order an additional front wheel we can build you one up no problem: the cost would be £175.