***Up and coming stock builds listed at the bottom!***
It's easy to accumulate a good amount of spare hubs and rims as a wheelbuilder…and this past year has been no exception! As well as the hundreds of custom builds that have kept me busy out of any downtime so as not to wreck productivity I build the odd 'stock' wheel when it's quieter.  Built to slightly less than my usual exacting tolerances (0.1mm runout, 5% tension balance; these are 0.25mm at the most, balanced to within 10%: still pretty close!) these represent wheels built to the standards of quality that you'd be able to buy from most quality bike shops if you asked for a set of handbuilt wheels from them.  I price all of these wheels at 25% off their usual RRP thus representing a real bargain: contact me for purchase details.  Complete wheelsets can be shipped from as little as £12.50.
See details below and keep on scrolling down to see what else will be available shortly. Once these are gone, they're gone so grab 'em now!
---
Quality Winter Trainers £275/1800g SOLD

-Shimano Ultegra 6800 11 Speed Hubs
-Front Hub New
-Rear Hub Fully Reconditioned
-Silver Sapim Laser Spokes at Front
-Race/Laser Mix at Rear
-Sapim Sils Brass Silver Nipples
-Mavic Open Pro Hard Anodised CD Rims
-32 spoke, 3x Pattern
-Excludes Skewer, Rim Tape Included
-Looks great with a raw titanium frame ;-)!

WAS £369!

Now £275!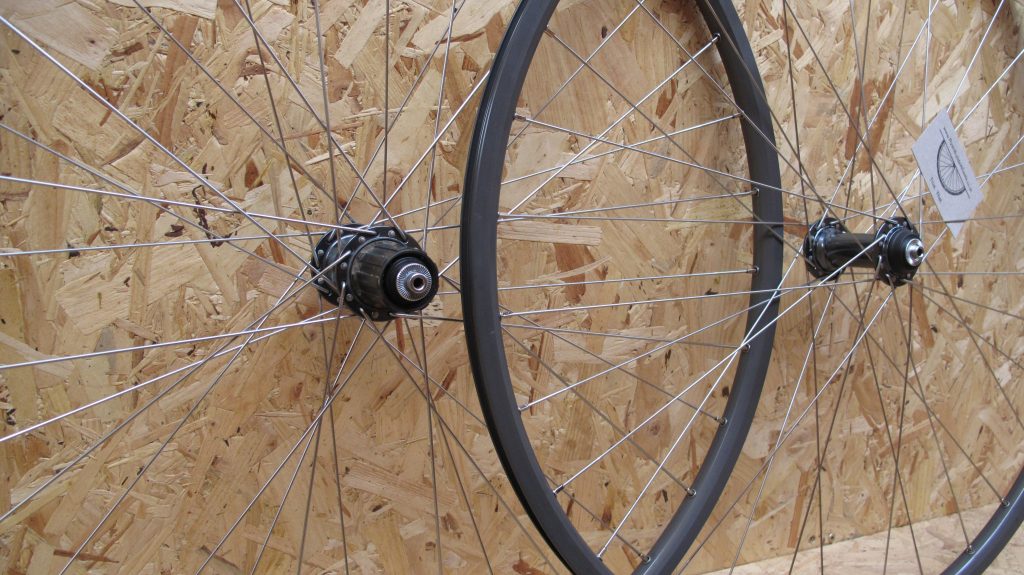 I built these purely because I ended up with the rear hub in my possession and I love Ultegra's Ice Grey colour! It's a great match with the long lasting CD Open Pro finish whose hard anodising means they'll last longer in the winter months.  Another option for a custom build might be an H Plus Son Archetype which is a much more modern design of rim.
Spoke choice saves those crucial grams, whilst everything else is designed for winter punishment from the excellent seals of the hubs to brass over aluminium nipples.
---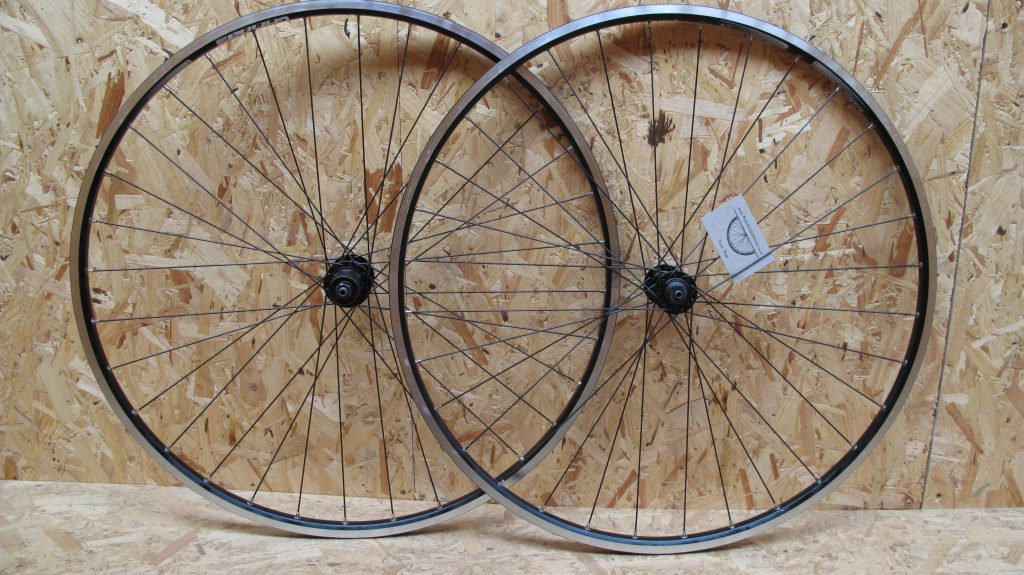 Budget Winter Trainers £150/2020g
-Shimano Sora 3300 10 Speed Hubs
-Black Sapim Race Spokes Throughout
-Sapim Sils Brass Silver Nipples
-Ryde Chrina 700c Rims
-32 spoke, 3x Pattern
-Skewers Included, Rim Tape Included

WAS £200!

Now £150!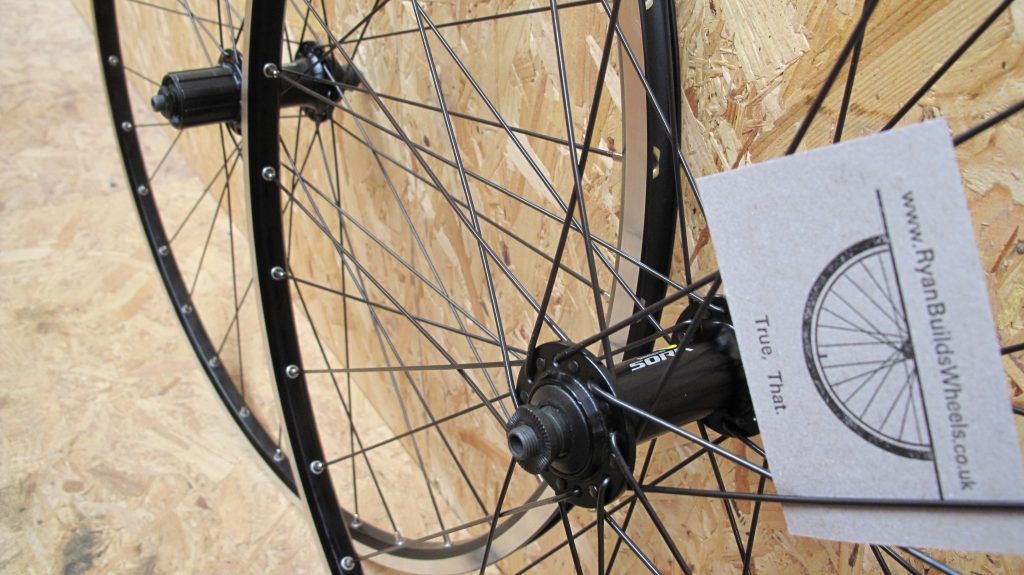 Handbuilt quality with solid, trusted and dependable components at a great price!
A pair of good quality factory built training wheels retail at about £145, for a mere £5 extra you have a pair of wheels that are handbuilt and come with all of the bonuses of having been so.
I wanted to offer an entry level wheelset that will last the course, take the hard knocks, and yet not cost the earth. This is they…
---
Still to Come/Available on Request!
Winter Trainers, Silver:  Shimano Tiagra Front Hub/105 5700 10 Speed Rear Hub, Sapim Laser Spokes, Open Pro Rims. £245

£180!

Uber Winter Traines/Adventure Wheels: Hope Mono RS, H Plus Son Archetypes, Sapim D-Lights with Alloy Nipples. Stealth Black Throughout.£495

£370!

Trad Quality Road/Cross Wheels/Trainers: Shiman0 105 11spd Hubs, Sapim Race Spokes, Mavic CXP Pro Rims.  £305 

£225!



Custom Painted Modern Road Trainers: Shimano 105 11 Speed Hubs, Sapim Laser Spokes, H Plus Son Archetypes, Black Alloy Nipples.  The rims are being custom painted by 7PotCustoms here in Bristol and will carry our logos. Deep Gloss Black.

£335

£250!
Bombproof 700c Tourers, Silver: Shimano XT T-780 Hubs, Sapim Race Spokes, Ryde Sputnik Rims. £213

£160!

SOLD!