Friend of RyanBuildsWheels and ultra endurance local legend Matt Jones borrowed a set of our A-Force test wheels to make his epic charity ride a bit faster. 'Lap Of My Mind' took Matt and 10 other riders along a 4500 mile, 20 day non stop relay challenge during the grimmest months of the year all in the name of raising awareness and money around Mental Health.  As a group all three of us face our own mental health challenges so we were only too happy to make Matt's portion of the challenge that this bit easier.  Here's what he thought!
"It's been a while now since I did quite a lot of miles in 48 hours, well over 430 if we're counting. These were pretty hilly miles as well as I took on the last leg of the 'Lap of My Mind' charity cycle around the UK coastline in the depths of winter. With nearly 10,000m of climbing on crappy Devon and Cornish filthy lanes my bike was going to take a hammering. I contacted Ryan who had previously build up a super light set of mtb race wheels for me and asked if they had anything in stock that might be a bit faster than my standard stock wheels I had on my do it all Planet X Full Monty bike. Ryan & Co. were keen to help support the challenge and pulled out this super light pair A-Force AL33 Disk on Bitex BX106 Hubs that I was promised would do the job! A huge improvement over my stock wheels already it was time to see what these were capable of!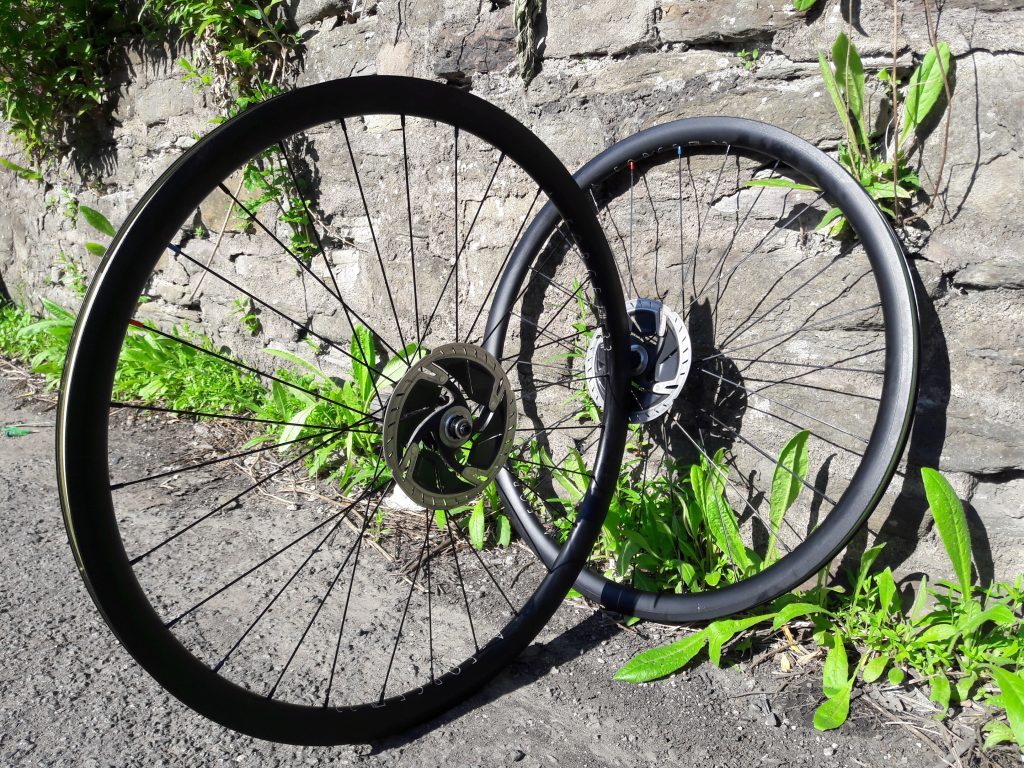 I wanted to run tubeless for such a massive ride and so on Ryan's advice chose some 28c Hutchinson all season Galaktik Fusion Fives. Depending on the tyre and rim combo I think it's worth remembering to get a nice tight seal you might want to prepare for additional wraps of tape like I did with these so that it's easy to re-inflate on the road if needed.  Outside of this initial setup issue I was happy with the tyre choice once on the road and they performed without issue. Gearing wise I ran a Sram Rival 1x system with 42 up front and a whooping 46t out back, every cog of which was needed up the regular 25% gradients of Cornwall. Full mudguards obviously! Time to get out there!
Once out on the road with pissing rain and howling winds, riding through the dark and cold the wheels took their hammering with ease including some nearly mountain bike style riding through atrocious country lanes in the wet and wild conditions. Loads of mud had washed on to the lanes as well but the tyre and wheel combo held up well with zero issues; impressive!

When the weather eased up and I did have time to concentrate more on simply riding the first thing I noticed is the lovely sound these things make! Silky! Let's face it: part of this is about looking/sounding good which -for me – means feeling good and feeling fast; it worked! That aside though I was really surprised by how much faster the wheels felt and the stiffness comparison was noticeable on the grindy Cornish climbs that came thick and fast! When I did get on the flats and up to speed the AL33's kept me there whilst the extra stiffness meant there was extra joy to be found on descents and in corners too. The posh Dura Ace rotors that RBW's supplied also look bloody cool!

All in all then I was really impressed by the increase in performance that the AL33's gave and I'd definitely consider a pair of them for further endurance road riding as well as being able to tell that they're also very performance oriented.  A big shout out to RyanBuildsWheels for the loan of this pair; give them a shout to upgrade your wheels from those fitted as stock; it's probably the best investment you can make to your bike to increase speed and enjoyment even if you are riding through some of the worst conditions imaginable!"
Read Matt's full write up of this mega challenge and to see the wheels in action! Head along to his blog page over at www.TeamJMC.uk now!