Description
Here's something a little different…a pair of hand built  lightweight 1525g, 31mm Aero Section, tubeless ready alloy road wheels with 2:1 spoke lacing at the rear for…only £225!
Every bit as good and built to the same tolerances and standards as any of our other wheelsets (true to within 0.1mm in all directions, tension balanced to 5%). We've built these up as part of our 'Christmas Clearance' and wanted to pass on the savings to you as an early present.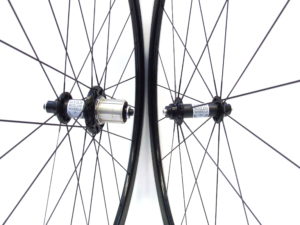 We were honoured to be asked to handle all of the UK builds for A-Forces superb AL33 kickstarter (seriously one of the best rims we've ever seen) in 2017 and were impressed/curious enough with the quality and weight of the then also new Powerway R51 hub set provided with their 'X-Light' builds that we got a pair of these hubs in ourselves and they were duly provided as a sample at a very good price.  We lucked out in that we also had a bunch of suitable spokes left over that would allow us to build onto one of our favourite rims that compares closely to the AL33 in the shape of the Kinlin XR31t.  A comparison between these two can be found here…the AL33 is superb…but at nearly a 1/3rd of the price the XR31t makes an excellent choice and it performs very well aerodynamically.  We could have made these a tad lighter by using a shallower rim…but for riding at speed one should be looking at aero gains rather than shedding grams.  Get up to speed and these will keep you there and beyond.
Some technical details then: both front and rear hubs have been weatherproofed in house with the same treatment that we apply to our usual choice of hubs from Bitex.  A suitable marine grease with a very high wash away tolerance on all external bearings seals and the right blend of product from Wickes and Sodenstrom in the Freehub/Pawl area to further weatherproof and keep hub noise down.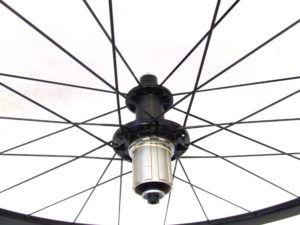 The rear hub uses a 2:1 spoke lacing which means that non drive side bearings have a tension that is much closer to their steeper drive side cousins than you'd find on a 1:1 setup…plus it means they wheels look pretty tech! Astute readers will note that the XR31t isn't a 2:1 rim but having discussed this decision with several of our peers whom we hold in high regard and by using the only alloy nipple we'd ever touch (the Sapim Polyax, designed to allow a much larger range of movement for the nipple within the rim)  and having tried similar things in the past we know that this won't prove problematic.
This pair have been built up with Sapim CX Ray spokes throughout in a 24/20 spoke count and has a rider weight limit of 100kg thanks to the depth of the rims and are fully covered by our extensive warranty and guarantee.
We've managed to turn out two pairs of wheels from stock that we didn't pay too much for during some quiet time this past few weeks; not one's for overt profiteering we wanted to give two lucky riders the chance to grab them at a great price; get em whilst they're hot! They'll come supplied with tubeless tape installed and a cassette spacer if you'll be running lower than 11speed.
Any questions: give us a ring! 07534 583 568; we're open Mon-Fri 10am til 6pm.