Description
Up for grabs are my personal pair super nippy singlespeed / fixed commuters; you know they're great 'cos I ride em ;-). I've swapped my commuter over to a dynamo/hub gear setup for the winter so it's time for these to find a new home.
Built to our usual stringent RyanBuildsWheels tolerances and checked/trued/serviced for their new owner these were built up to provide a pair of solid yet pretty lightweight singlespeed commuting wheels for myself.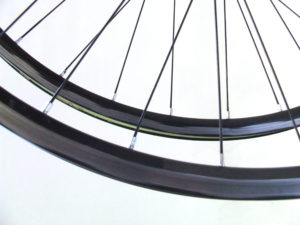 The rims are Ryde Pulse Sprint; an exceptionally lightweight (390g!) alloy rim which is tubeless ready with tape already installed.  I opted to buy them in their hard anodised version when building these from new so as the brake track would last  longer.  You'll see the effects of this wear in the pictures.  All rim surfaces have plenty of life left because of this with no concave wear showing at all.  Plenty of miles and smiles left in these and because of the superb weight on the rims these wheels spin up and accelerate super quick not to mention the front's handling/steering being nice and nippy; perfect for commuting.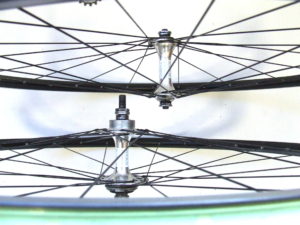 Spokes are the super light DT Swiss Revolution in Black equipped with the high end Sapim 7075 T6 Heat Treated alloy nipples in silver; see our 'spoke' section for more details on spoke and nipple choice.  Built up with 32h front and rear and tension balanced perfectly these wheels have been quite happy under myself (80kg) and the occasional heavy shopping bag no problem.
Hubs are a refurbished pair.  At the rear is the standard Formula flip flop hub that is almost ubiquitously re-branded everywhere…we buy them in direct to help us and you save costs.  This has recently had it's bearings replaced with high end ABEC Grade 5 stainless steel sealed bearings for extra life.
The front hub is a refurbished Shimano 105 5500 affair.  It's bearings turn smoothly and were full degreased, cleaned, and re-packed with free Grade 300 BB's and high quality Shimano hub grease when I picked it up, all internals were in good condition when last serviced.
2 x 10mm Brand New track nuts are included for the rear, as is a 15t Miche Fixed Gear Cog and fitment system.  If you'd like to run them fixed you'll need a lock ring.
RRP on these had you have bought them new from me would be £310.
Any question or queries just ask